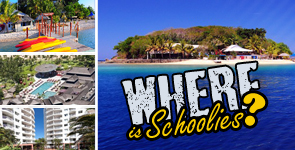 Schoolies events were once mostly celebrated in local beach towns throughout Australia, and while these homegrown parties continue to thrive, it seems that every year there is another hot, new Schoolies destination on the map.
Famously, the ultimate place to be for Schoolies is The Gold Coast. Queensland is somewhat the birthplace of Schoolies hedonism and rightfully so – the combination of gorgeous beaches mixed with wild nightlife and endless recreational activities makes this place perfect for a week of relaxation and indulgence. However, with lower international air fares becoming increasingly available, the Schoolies celebrations have spread all the way overseas, making exotic South East Asian and Pacific Island adventures a highly sought after and financially reasonable choice for Schoolies Week – with the "Sure Thing Schoolies Vanuatu" ranking as the top event through Schoolies feedback.
The team at Schoolies Club has their fingers on the pulse of all things Schoolies related and we stay on top of trends to make sure we offer only the hottest party destinations to school leavers. On the East Coast, some of our favourite Schoolies locations include the Gold Coast, Byron Bay, Phillip Island, Terrigal, Magnetic Island, Airlie Beach, Sunshine Coast, Lorne and Torquay, while on the South and West Coasts we are huge fans of Dunsborough, Busselton and Victor Harbor.
For those wanting to kick things off overseas, consider Vanuatu, Bali, Fiji, Thailand or New Zealand for the ultimate tropical getaway.Overseas Schoolies experiences can be the perfect way to celebrate in style while exposing yourself to new cultures. Vanuatu in particular is becoming increasingly popular as a Schoolies destination and we proudly offer our own Premium Schoolies event on this picturesque and safe island. All of our overseas packages are highly reputable and quality assured, so you can rest assured that you are receiving the highest quality of value and service wherever you go when you book through Schoolies Club.
Whatever your desire and wherever the destination, speak to us on 1300 49 59 69 and we will happily help you work out the best Schoolies location for you, be it close to home or far across the seas.