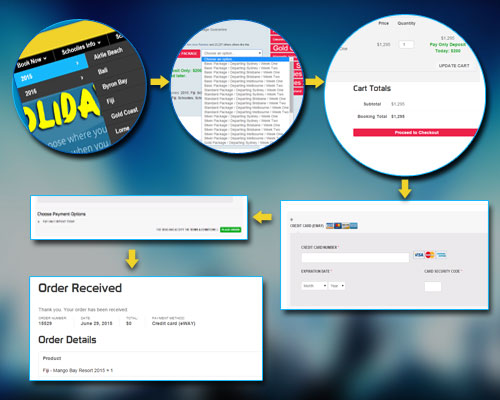 Booking your Schoolies experience through Schoolies Club is effortless.
Our office is open 24/7 so you can call us anytime on 1300 49 59 69, or book online by clicking the Book Now section.
Schoolies Club does NOT charge any booking fees… Ever. The booking service is free.
The easy part is yours – choose where you want to go and the dates you wish to travel we will take care of the rest! Schoolies Club offer a wide range of kickass destinations and every place has its own unique features. If you're looking to stay on home soil, then consider The Gold Coast, Sunshine Coast, Byron Bay, Magnetic Island, Phillip Island, Lorne, Victor Harbour or Terrigal. If tropical paradise is more your thing, why not try the exotic Vanuatu, Bali, Fiji or Thailand. Whatever scene you, we've got you covered.
Consider the dates that you wish to travel – take into account exam dates, graduation events or school formals before you lock in the dates for your trip. If you're not sure what events are happening at what time in a certain destination, speak to us, we have the low-down. Based on the state you live in, we know what dates you should be travelling.
It's highly recommended to book in advance as accommodations fill up fast. To make sure you get the digs you want, it's never too early to speak to us. We can take bookings years in advance, and hey, it always helps to have something to look forward to. Consider an advance booking to have a light at the end of the tunnel as you make your way through the school year.
We are more than happy to answer any questions you may have or help in any way possible, so get in touch with one of our Schoolies experts today and make your dream trip a reality!