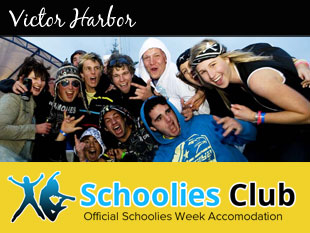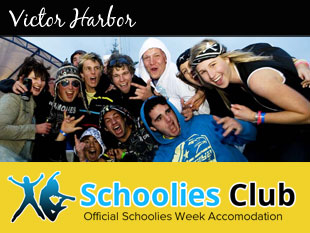 Located only an hour out of Adelaide, Victor Harbor has been South Australia's number one Schoolies destination since the dawn of Schoolies history. Situated on the fabulous Fleurieu Peninsula, approximately 15,000 school leavers are drawn to Victor Harbor each year to take part in this established, safe and kick-ass celebration. Well organised, official Schoolies events are notoriously awesome and provide revelers with a different party every night of the Schoolies trip.
Victor Harbor and neighbouring towns of Port Elliot, Middleton and Goolwa share a stunning coast line known for its surfing beaches and the region provides the perfect playground for excited Schoolies. There is a range of motel and self-catering apartment accommodation, along with a good selection of caravan parks, while others choose to rent entire houses so their whole crew can be under the one roof. Victor Harbor is the kind of destination where accommodation fills up really fast, so don't hesitate to contact Schoolies Club today to make sure you secure the lodging you are hoping for.
Other than the official parties which will be talked about for years to come, this is a great place to spend your days, with plenty of new things to try during your stay. Victor Harbor itself provides a lovely swimming beach, with tourist walks (or even a horse drawn tram) to nearby Granite Island for fairy penguin spotting or hikes to the top of The Bluff for the more adventurous. In the town centre there are some famous pubs, an array of dining and fast food options, mini golf, a small amusement park, a cinema and more shops than you'll have time to visit.
Surrounding areas provide plenty of options to venture out. Greenhills Adventure Park is only a short drive away and is a time honoured tradition for Schoolies, where waterslides, kayaking, mazes, flying foxes and mini golf are just some of the crazy activities on offer.
The surrounding townships and beaches are perfect for day trips and each offer their own version of relaxed Fleurieu Peninsula beauty. Horseshoe Bay in nearby Port Elliot is a stunning cove much loved by Schoolies as a place to sun bathe, swim and meet new friends, and the Port Elliot Bakery is so famous the line regularly stretches all the way down the street. Once you taste it, you'll know why!
Victor Harbor combines the perfect blend of small town relaxation with amped up Schoolies excitement, making this the ideal destination for South Aussie school leavers or anyone else who wants to sample the fruits of this amazing part of the country.
Just like the hottest concert tickets, the best schoolies hotels are always the first to sell out… So there's no better time to contact us that right now 🙂
Simply fill the form below to get your awesome Schoolies trip started: