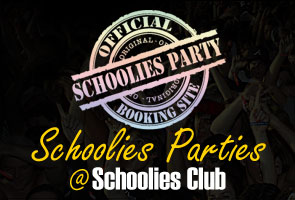 Schoolies Week provides the mother-load of all parties. No matter the destination, there is always something amazing happening somewhere. There are all kinds of Official Schoolies parties and we here at Schoolies Club know which ones you don't want to miss out on.
Attending an official party will guarantee you are in a safe and supported environment and will be surrounded by likeminded school leavers, away from "toolies" or any unwelcome guests. A lot of care and organisation goes into making sure that these parties are absolutely sensational and these parties are often the highlight of the week. These parties are action packed, with all the hottest DJ's, hosts and all kinds of giveaways and believe us, you don't want to miss these!
The official Schoolies parties will require purchase of a ticket or wristband; however some entries will be covered by your purchase through Schoolies Club. Check with us to see whether your booking includes the official Schoolies Club wristband, or ask us about what parties are happening at certain locations and we can help you with your ticket bookings.
Concerned that you won't be 18 at the time of Schoolies and you will get left out of the fun? Stuff those worries in a sack, as there are Schoolies parties to suit everyone. There are plenty of all-age events to ensure that nobody misses out, so never fear.